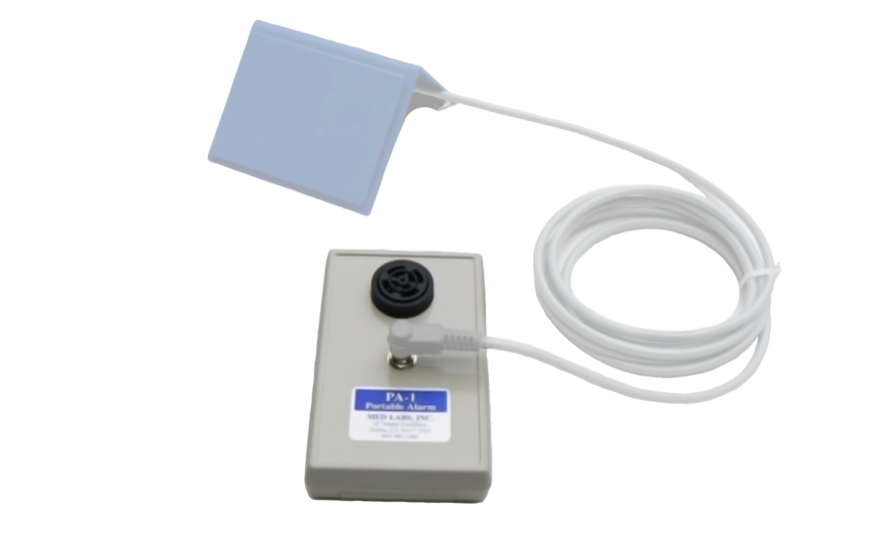 The PA-1 is a small, light-weight, battery-powered Portable Alarm, designed for use with E-Z Call Nurse Call Switch.  The plug on the E-Z Call cable connects directly to the input jack on the PA-1.  The PA-1 uses the same kind of alarm commonly used on medical devices.  It produces a loud, steady penetrating whistle.  On special order, it is also available as a "latching" and/or pulsating whistle.
The PA-1 is ideal for situations where a centralized call system is not available or not practical.  Examples include mobile or fixed locations such as gurneys or beds temporarily moved away from central call system connection, wheelchairs, and in-home settings.  
- Directly compatible with E-Z Call Nurse Call Switch.
- Produces penetrating whistle.
- No need for central call system.  May be used at home and in mobile situations.
- Battery powered - uses standard 9 volt battery.
- Long battery life - typically several months.
- Compact - Approx. 5.5 x 3.5 x 1.8 inches.
- Light weight - Approx. 6 oz.
- High quality - Made in U.S.A., 5-year warranty on materials and workmanship (except battery).
- Low Price
- PA-1 Portable Alarm
- 9 volt battery


International Shipments: Contact us for Shipping Costs and possible VAT
(Some countries have a "Value Added Tax")